I JORNADAS INTERNACIONALES TÁNGER
FIRST ANNUAL INTERNATIONAL CONFERENCE OF THE JEAN MONNET CENTRE OF EXCELLENCE "IMMIGRATION AND HUMAN RIGHTS AT EUROPEAN EXTERNAL BORDERS.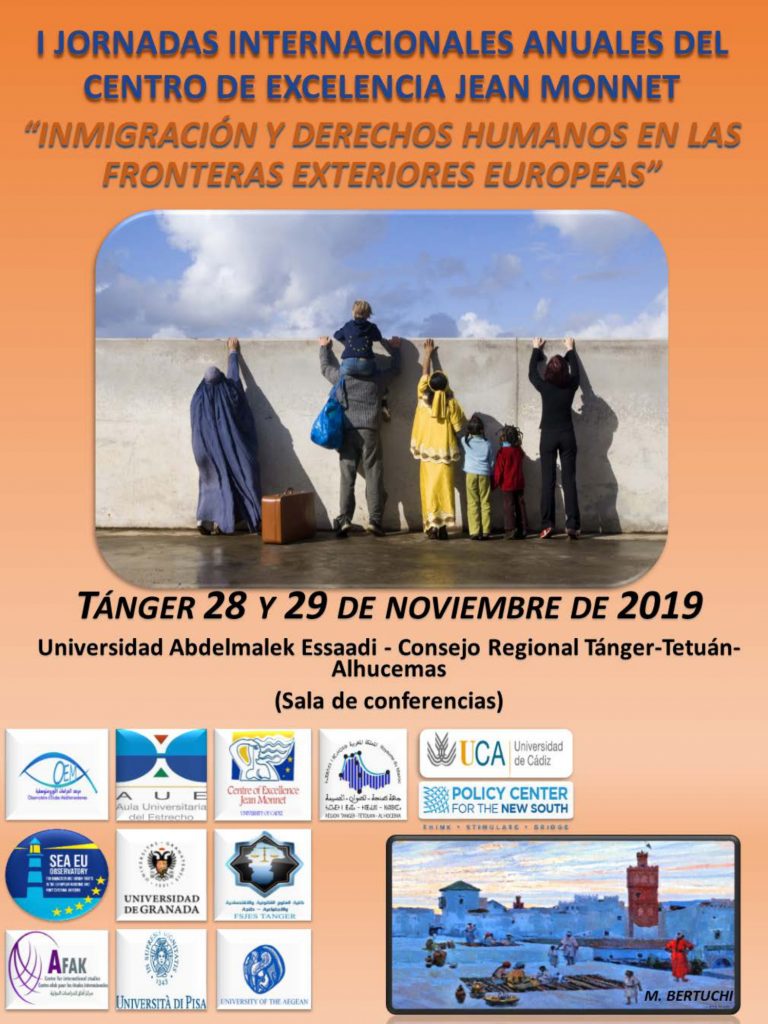 The next 28th and 29th of November 2019, will take place the I INTERNATIONAL DAYS OF THE JEAN MONNET CENTER OF EXCELLENCE "IMMIGRATION AND HUMAN RIGHTS IN THE EXTERNAL EUROPEAN BORDERS", at the Abdelmalek Essaadi University of Tanger-Tetouan (Morocco). This International Conference, bilingual Spanish and French, aims to analyze and bring closer to undergraduate, graduate and doctoral students, and to the Moroccan civil society, the issues related to migration policies of the European Union, Morocco, as well as the promotion and protection of human rights of migrants.
During this International Conference, three sessions (afternoon and morning) of conferences and round tables will be held, in which experts and academics from Morocco, Spain and other countries participating in the Center of Excellence will address the following topics:
– Comparison of migration problems in different countries in the Mediterranean, with special emphasis on the Strait of Gibraltar area.
– Comparison of the problems related to human rights in maritime migration and in the different maritime areas of the EU member states.
– Analysis of the potentialities and shortcomings of the EU regulations applicable to the management of external maritime borders and of the immigration policy rules in their practical application in Italy and Spain, with an impact on the countries of North Africa.
– Study of immigration issues in Morocco: the situation of sub-Saharan immigration, asylum and refuge in Morocco, the role of Morocco in international migration and cooperation between Morocco and the EU on immigration and border control in the Mediterranean.