noticia
WORKSHOP: NEIGHBOURHOOD, MIGRATIONS AND HIGHER EDUCATION COOPERATION – JEAN MONNET MODULE "IDENTITY AND EUROPEAN VALUES IN THE EXTERNAL BORDERS" – 2-3 MAY 2023
27 April 2023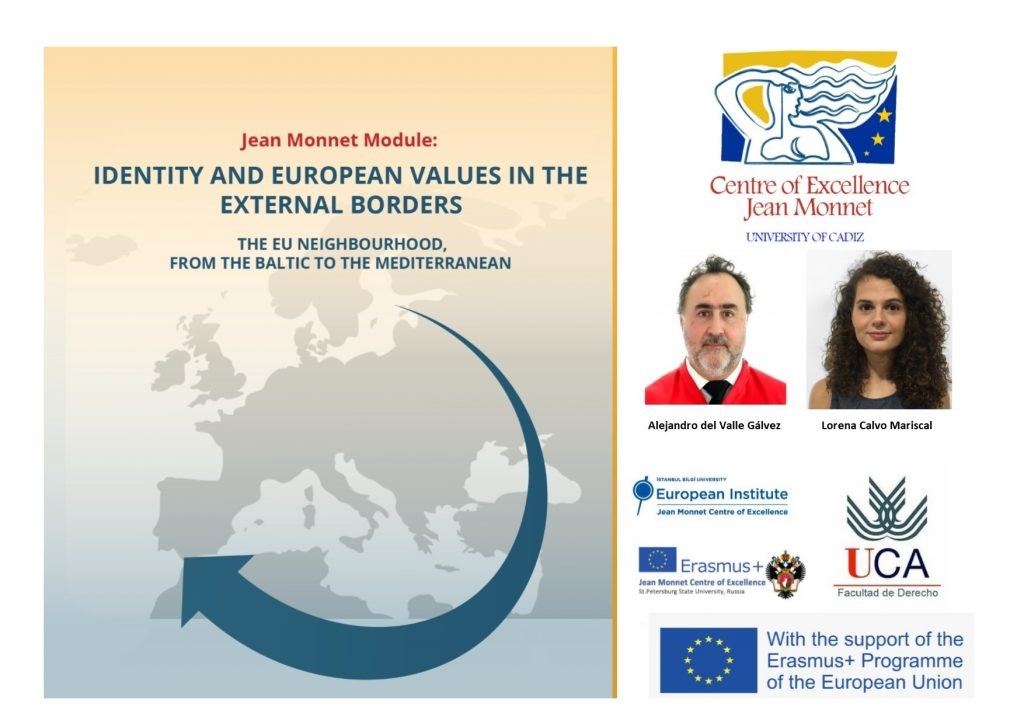 The  Workshop NEIGHBOURHOOD, MIGRATIONS AND HIGHER EDUCATION COOPERATION, within the framework of the Jean Monnet Module – "IDENTITY AND EUROPEAN VALUES IN THE EXTERNAL BORDERS: RUSSIA AND THE EU NEIGHBOURHOOD. FROM THE BALTIC TO THE MEDITERRANEAN (EUBALMED)" , will take place on 2 and 3 May 2023.
REGISTRATION: https://celama.uca.es/colaboraciones22-23/jean-monnet-module-identity-european-values-external-borders/ 
This Module is coordinated by  Dr. Alejandro del Valle Gálvez, Full Professor of Public International Law and Director of the Jean Monnet Centre of Excellence "Immigration and Human Rights at Europe's External Borders" and Dr. Lorena Calvo Mariscal, Professor of Public International Law and Academic Coordinator of the Jean Monnet Centre of Excellence.
This Jean Monnet Module is intended as a common training and research space to promote the comparative and common perspective of identity and values in Europe and beyond, in the framework of the European Neighbourhood Policy with Eastern and Southern Europe.
The first activity
will 
address issues on "Migration and Refuge at the European External Borders" and "University Cooperation in times of crisis", and it can be followed both on a presential basis but also ONLINE. 
The MODULE consists of a 
60-hour course
 from 
May to October
in Cadiz, 
with the possibility to attend online for those students of partner universities. The distribution of the Module's hours is as follows: two p
resential WORKSHOPS of 20 hours each (May and October) and an International SEMINAR during June. Total: 60 hours (40 class hours, 20 hours of individual work by the student).
A global certificate of attendance and achievement in English will be issued at the end of the course, confirming the successful completion of the Jean Monnet EUBALMED Module, for 60 hours (attendance at 80% of the sessions is required to obtain it). Likewise, an individual certificate of attendance and achievement of 20 hours will be issued for each Workshop (15 classroom hours + 5 hours of autonomous work by the student).